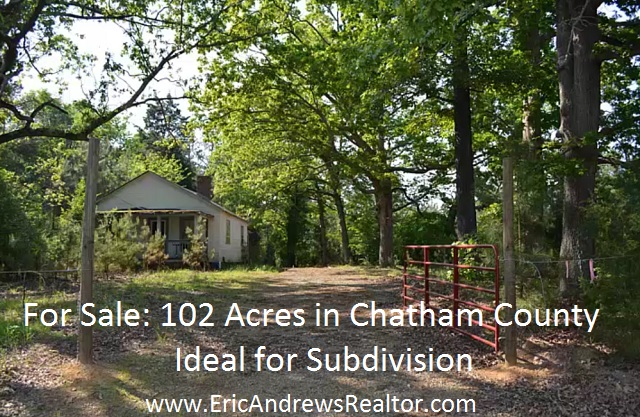 If you are looking for land near Chatham Park please feel free to contact me. I have several lots listed an available for investment purposes or that would be ideal for a subdivision. Many are available on the MLS or Loopnet, however there are private sellers that I know as well who are willing to let go of 5 – 10 acres of land which directly borders Chatham Park.
Below is a video of a 102 acre tract which I currently have listed. This lot is MLS# 1949842. The lot has road frontage on Gum Springs Church Road and adjoins another existing subdivision. 70 acres is wooded, 30 acres are clear. The property has access via a logging road. 1/3rd of the acre was timbered in 2014, another third was timbered about 15 years ago, and a third of it will be ready in about 5 more years. There is much redwood oak and hickory wood on the property.
This property is located in the Northwood High School District, which is ranked among one of the best schools in the state and the country. It is a few miles from the boat launches near Jordan Lake and Jordan Dam and near US Highway 1 and US64.
Related pages: