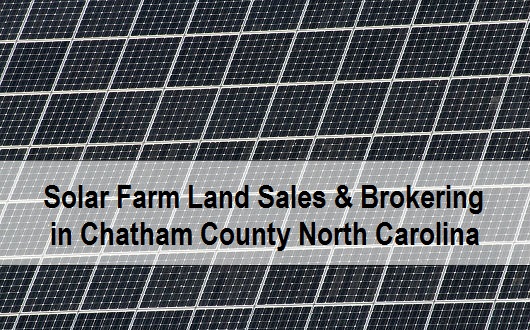 An area that I am quickly becoming more knowledgeable and experienced in is brokering land for solar farms.
Pittsboro is in the process of getting its first solar farm and as of February, 2015, I am currently involved in 5 solar farm transactions.
Owners of solar farms are looking for flat, level land with paved road frontage. Ideally they want the land cleared or pasture already.
Sometimes they offer leases and sometimes they offer purchases. If the land isn't already cleared the numbers often don't work. Solar farms must be near a major power line for affordable interconnection.
Apparently, Chatham has enough hours of sun to make solar farms profitable.
The solar companies take a few months to close because they need to contract with the utility company and get county approval. Fortunately, thus far, the Chatham County has been very cooperative.
Many technology companies that are looking at Chatham Park and automobile manufacturers looking at the Siler City Mega Site (Chatham-Siler City Advanced Manufacturing Site) are very attracted to areas that utilize solar power.
If you are interested in leasing land for renewable energy production, feel free to contact me. And if you are looking to purchase land in the area, I am very knowledgeable with all types of land in Chatham County and Southern Alamance County as well.