As recently mentioned in the Wall Street Journal, the Fiber To The Home Council Americas funded a study that showed homes with fiber increase in value by approximately 3.1%. The study was conducted by the University of Colorado and Carnegie Mellon and showed an increase of $5,437 on a $175,000 home.
Homes being built in Chatham Park will have Fiber Internet, and one company, Randolph Telephone Membership Corporation, is bringing fiber to rural areas of Chatham County and Randolph County. A few areas they're currently working on or have recently deployed Fiber to include Manor Rock to Brush Creek, Silk Hope, Liberty, Badin Lake, Jackson Creek, Pisgah, Coleridge, Bennet and High Falls. You can see more of the "fiber communities" here.
In the map below, you can see Silk Hope. The orange areas need additional sign ups (due to the cost of deployment), the purple areas are already enjoying Fiber, and the green areas are getting Fiber, likely in 2019. (If you live in one of these orange areas, you can commit to service and sign up here to get the ball rolling. Fiber is expensive to stick in the ground and more signups are required to get Fiber to these areas).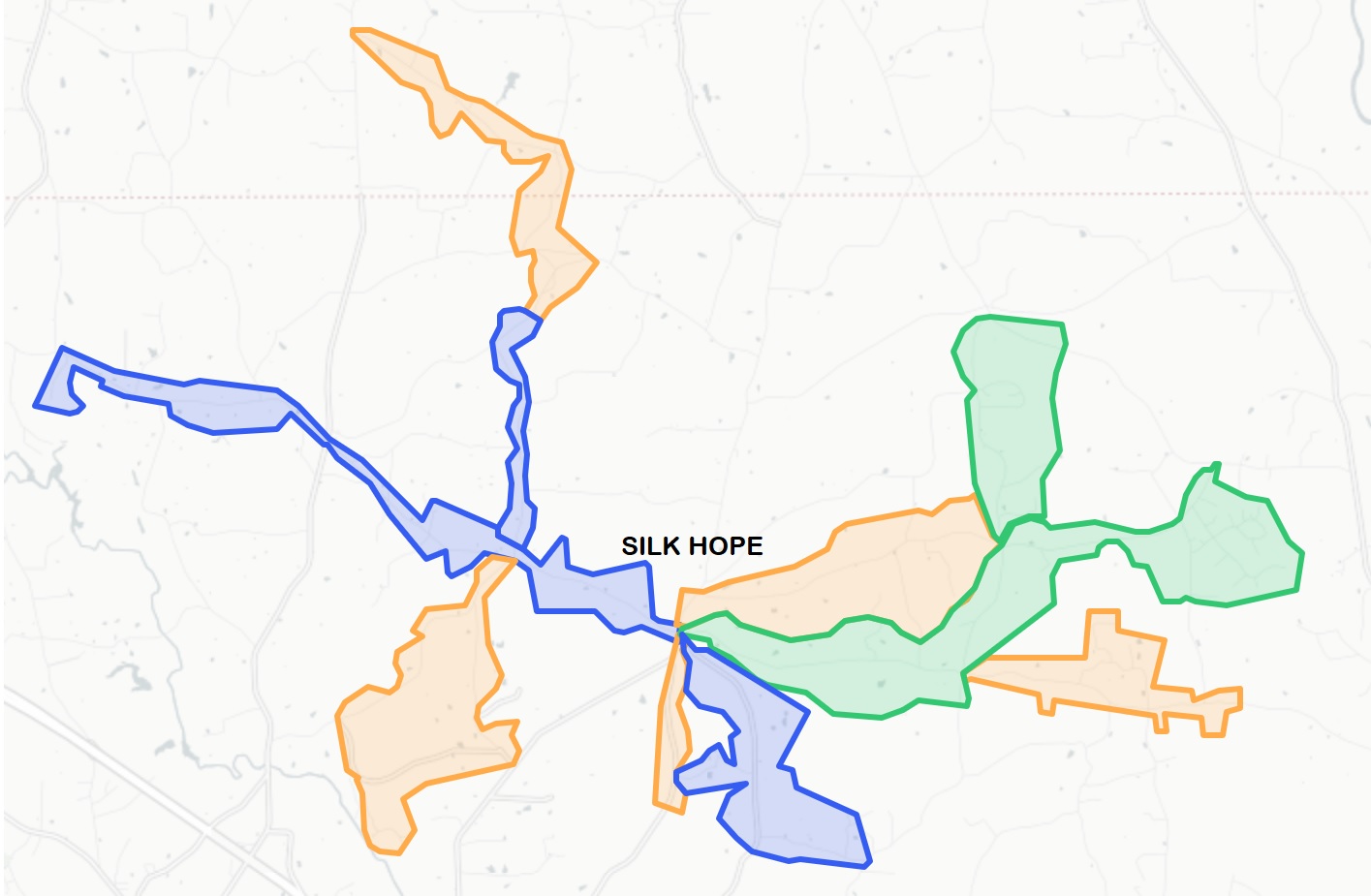 Will Fiber Internet Increase Home Values in Chatham County?
Probably, but we're not sure by how much. Eric Andrews recently sold a home belonging to someone who couldn't take the slow speeds any longer and was not getting Randolph Fiber. People moving to the area from Cary, Apex, Raleigh, Durham and Chapel Hill often refuse to move into homes which have DSL Internet. DSL in Silk Hope is limited to around 10MB down and upload speeds generally max out at 0.5MB. Sending a Snap on Snapchat can take minutes, and streaming more than one video on Hulu or Netflix can lead to failures. Outages lasting more than 1 minute are dealbreakers for some people, and outages lasting days occur in this area. To the right person, Fiber is definitely a value, and for some people, it's mandatory. We do have Spectrum closer in to town in Pittsboro which has some good plans as well.
In addition to Fiber, Randolph also offers a TV package.
In the video below, Eric Andrews discusses Fiber Internet and home values.