Looking for Chatham County NC homes for sale? We're located in downtown Pittsboro and have a complete listing of homes for sale that is able to be searched on our website. To see all current available properties please visit our property search page. We also have an advanced search page in place if you would like to filter some of the homes.
Chatham County Homes
Common features people search by are basement, distressed, new construction, horse properties, fireplace, family room, inside Pittsboro, golf course, or HUD owned.
There are a huge variety of homes on the market in Chatham County. As a land guy, many people come to me looking for properties with acreage. A quick search shows me that today there are over 28 properties for sale in Chatham with over 4 acres.
Search my featured listings to see properties that I have listed for sale. I do everything from land sales, to commercial property, to cozy family homes.
Below is a house that I just listed. Now this is a huge 4700SF home. If you are looking for a large home you can visit this listing here.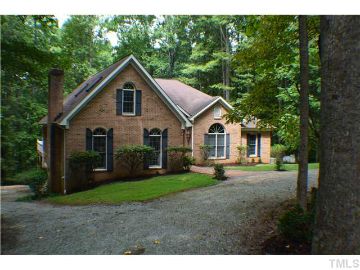 Using the property search
On my site you will notice that when searching for a home, once you have clicked onto a property you will see some tabs. Tabs include Features, Map, Schools, Walk Score, & Mortgage Calculator. Using the listing above as an example, we can see that the home is located in Chatham County, in the Redbud subdivision. It of course includes all location information, interior features, and exterior features. The map tab shows up everything we need to see, a Google map of the property. Sometimes street view is available here unless the home is on a private road. The schools tab tells us which schools are nearby. In this case the schools for this home are Perry W Harrison Elementary, Horton Middle School, and Northwood High School. The Walk Score shows up the closest restaurants, coffee, groceries, parks, shopping, and entertainment. This home is near Allen & Sons BBQ which serves up very good BBQ & sweat tea.
Looking for another property in Chatham County?
If you get tired of searching don't hesitate to call me directly at 919-548-1014. At the time of this blog post I have 44 properties listed and am extremely familiar with what is going on in Pittsboro, Siler City, and every township in the area. I will be happy to answer any questions you have for you.