Throughout August 2019 several clients have asked us why a vehicle has pulled into their driveway and photographed their home. The Chatham County NC Tax Appraisal Department is doing this in preparation for 2021's revaluation.
It's no secret that homes in the area have gone up in value over the last few years.
You will be taxed on the appraised value effective Jan. 1, 2021.
The appraisers will take measurements, photograph improvements and may knock on doors.
If you aren't home when they visit, they'll leave a notice on your door which looks like this: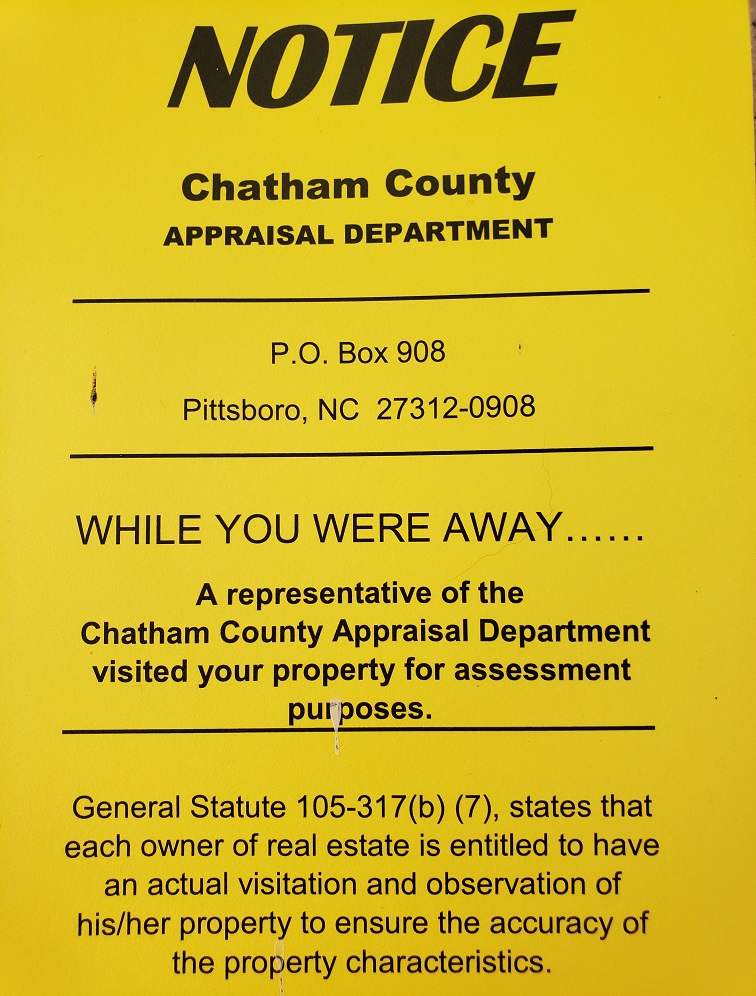 According to this page on the Tax Administration's website:
All will have a county ID badge, including contractors hired to help with the appraisal.
County appraisers will drive a county vehicle with the county seal on it, while contractors will drive personal vehicles with a county seal decal added to it.
At this time, contracted appraisers are driving the following vehicles:
silver Chevy Cruze
dark blue Subaru WRX
silver Chevy Impala
red Honda Civic
white Toyota Prius
silver Jeep Cherokee
black Ford Fusion
gold Honda SUV
red Ford C-Max
blue Honda Civic
silver Nissan Altima
blue Chevy Malibu
It is important to note that what homes appraise for by the county and what they sell for and get appraised for by your bank are 3 different numbers.