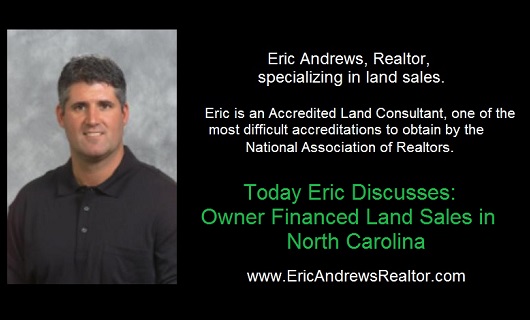 This article and video below explain owner financed land sales and how they work in the state of North Carolina for both the buyer and the seller.
Sellers: If you are looking to sell land in North Carolina please give me a call or visit my page on North Carolina Land Sales. I will be happy to get you the most for your property as quickly as possible.
Buyers: If you are looking to buy land in North Carolina see all of my listings here or call me for any specific needs. I have multiple deals in the works at any given time from farmland to vacant tracts, commercial real estate, and more.
Who Uses Owner financing?
If a seller of land owns their land and has no liens they can offer owner financing to the buyer.
If the buyer of land does not have enough money to purchase the land in cash, they need financing.
If a bank will not finance the land purchase, buyers will often seek out land that offers owner financing.
I have worked with owner financed land many times in Pittsboro, Siler City, and other areas in Chatham County. In Wake County financing property in Raleigh, Morriseville, Apex and other nearby towns and cities is also very common.
North Carolina is a Deed of Trust State.
When owner financed land in North Carolina takes place, the seller of the land holds the note. This means that the seller is acting like the bank. The buyer actually owns the land; they pay taxes on it, they pay insurance on it, and they have full rights to the land.
Walk Away Pain.
Sellers financing land should get a significant down payment, often around 20%, although all sales are different. Amortization may be anywhere from 15-30 years, although sellers usually have a 3, 5, or 8 year balloon. This means at the end of this period, the buyer and seller can either continue their arrangement, or the buyer can pay the note or obtain external financing. Feel free to call me if you would like to hear more about these options.
North Carolina is very pro seller when it comes to owner financing. The court systems, the way everything is set up, etc- the seller gets their collateral back if the buyer fails to make their scheduled payments.
Conclusion
How do I sell land with owner financing? This is a question I am commonly asked. I hope the above provides some answers. If you are looking to list your property feel free to give me a call. Land sales are completely different than other real estate transactions; they are marketed differently, listed on different networks than traditional real estate such as homes, and, they attract different purchasers.