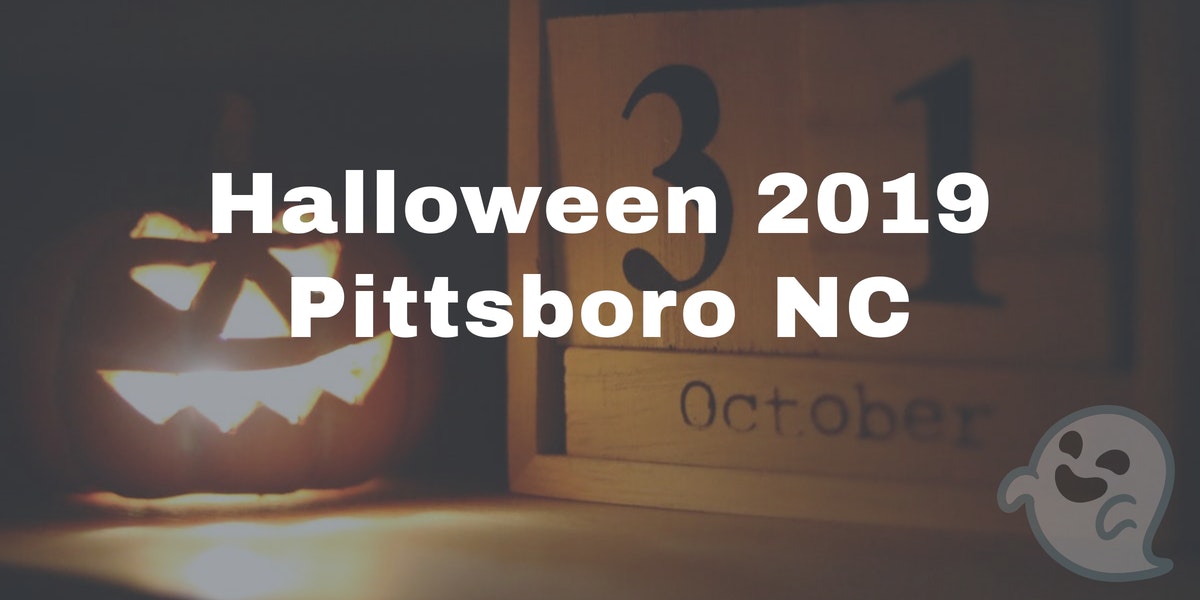 Here it is folks, the 2019 guide to Halloween in Pittsboro, North Carolina. May you and your family have a spooky, safe and fun Halloween. There are lots of events here the whole family can enjoy. If we missed any feel free to comment at the bottom of this article.
Spooky fun fact:
Did you know that Real Estate Agents must disclose paranormal activity to potential buyers of real estate???
Halloween 2019 in Pittsboro NC:
Trunk or Treat at Pittsboro United Methodist Church.
Sunday, October 27, 2019 from 2:00 PM – 4:00 PM.
There are snacks, games, police officers and Chatham County Firemen here.
Trunk or Treat at Carolina Brewery.
Monday, October 29, 2018 from 6 – 8:30PM.
This event takes place in the parking lot and coincides happens to be on a Monday when kids get to eat free.
Fearrington Pumpkin Walk 2019.
Fearrington Village is doing away with "Pumpkinfest". This year it is a "Pumpkin Walk". The pumpkins will be tucked into the gardens all around the village center on Wednesday and Thursday, October 30th & 31st. You are welcome to walk through the gardens and look at the pumpkins. There are some really creative pumpkins here.
The Pumpkins at Bynum Bridge.

On October 31, 2019, crowds of people will visit the Bynum Bridge to see the pumpkins. The pumpkins are usually lit around 6:30PM. People usually begin carving them about 4 hours before that over at the Old General Store. The neighborhood in Bynum is also a popular place for trick or treaters as well. Here's a neat video about the pumpkins.
The Original Hollywood Horror Show.
This takes place up the road in Snow Camp. Tickets are around $25. It's a very impressive haunted house! https://hollywoodhorrorshow.com/
Northwood High School's Trail of Terror.
Northwood High School's Trail of Terror was October 30, 2019 this year.
Pittsboro Farmer's Market.
October 31, 3pm-6pm. From the Pittsboro Farmer's Market: While you shop for the best groceries in town, get your knives and/or tools sharpened, you can also go trick-or-treating at the vendor booths, participate in a Halloween parade, listen to a lovely ukulele duo, do chalk art, and just generally have fun with us before you head out to trick-or-treat or go to the Bynum Bridge.
Fall Festival at Huckleberry Trail Farm.
Corn maze, pumpkin patch, hayride and more. Fall Festival starts September 28, 2019 and runs every Saturday and Sunday through October 27. They are open from 10 to 6 on Saturday and 1 to 6 on Sunday. The last ticket is sold one hour before closing. https://huckleberrytrailfarm.com/
Cumulonimbus Chocolates Halloween Pairing.
October 25, 2019, 6PM-8PM.
580 Craft Beer. Drink beer & eat chocolate!
580 Craft Beer Costume Party.
October 31, 6-9PM. Cold beer and more info here.
Chatham Community Library Children's Halloween Party.
October 19, 2019, 2-4PM.
Wear a costume in, hear stories, get candy, play games.
Howl'Oween Dog Party at House of Hops.
October 19, 1-3PM
Dress up with your dog, drink beer, win a prize?
https://www.facebook.com/events/401656070726399/
Phillips Farms of Chatham.
This is a great, local place to buy corn stalks and pumpkins.
http://phillipsfarmschatham.com/pumpkins
Ramseur Fall Festival
October 19, 2019
https://www.facebook.com/events/822867734781569/
Best Chatham County neighborhoods to Trick or Treat in:
Which neighborhood has the biggest candy bars?
The Pittsboro Police Department will be set up at the main entrance to Potterstone Village just as they are every year, giving out candy. Potterstone gets packed and is by far the hot spot for trick or treaters due to the housing density of this neighborhood. Of course, trick or treating occurs at all neighborhoods in Chatham County. This generally occurs at dusk on October 31st.
Trunk or Treats
There are many more good Trunk – or – Treats put on including the one in Silk hope and school in Bear Creek. Many local churches host Trunk or Treats as well. Basically, you park and take little ones from trunk to trunk, getting candy!